XRP Price Prediction as $2 Billion Sends XRP Up 6% Overnight – Do Whales Know Something?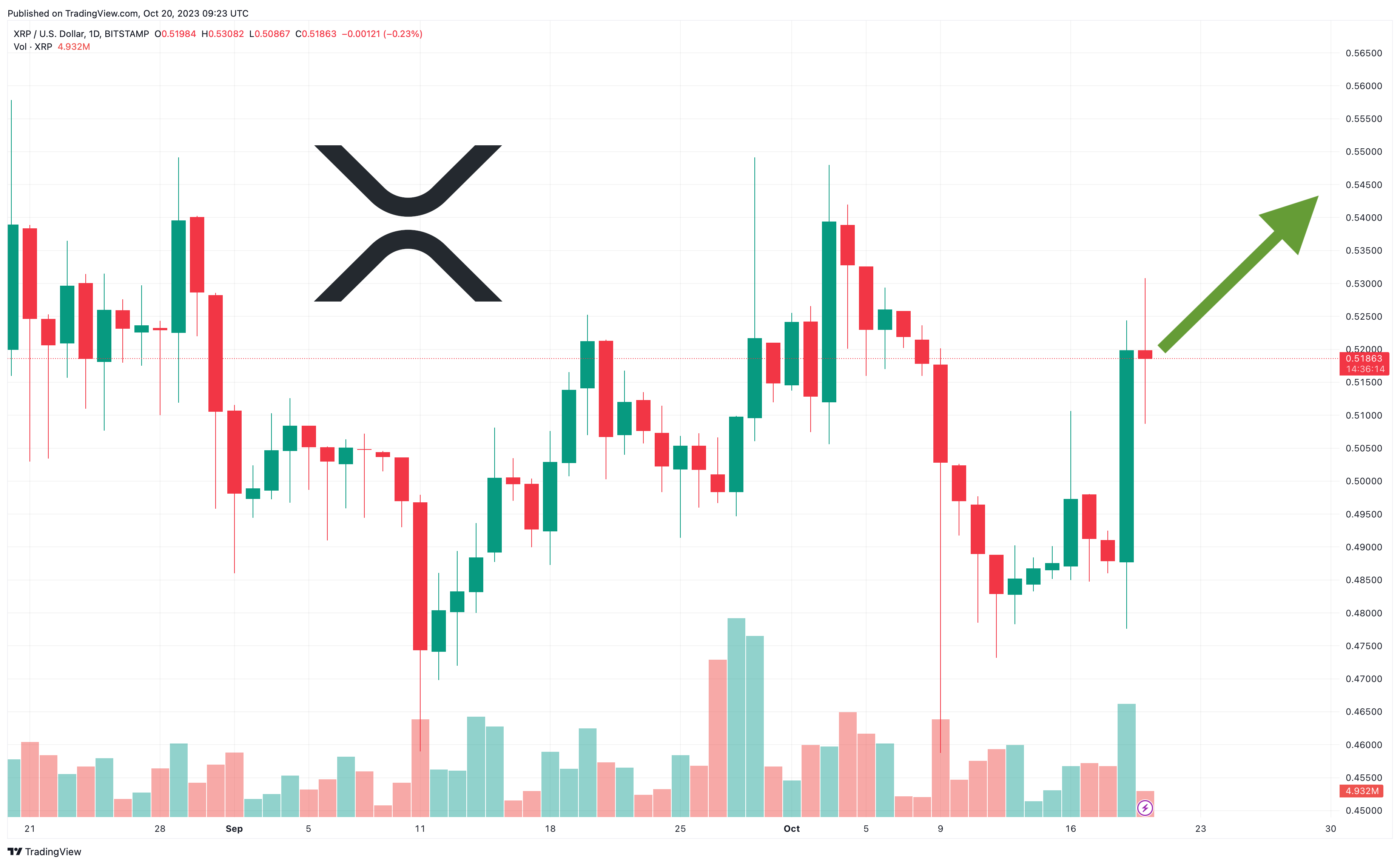 The XRP price has surged by 7% in the past 24 hours, rising to $0.515869 after the SEC dismissed its outstanding claims against Ripple executives Chris Larsen and Brad Garlinghouse.
The dismissal means that a scheduled trial – on the question of whether Garlinghouse and Larsen knowingly aided and abetted Ripple's violation of securities law – will no longer go ahead, with the overall case looking increasingly like it will conclude with a full settlement between the two sides.
Yesterday's positive news has left XRP up by 7% in a week but basically flat in a month, although the altcoin remains up by 51% since the beginning of the year.
And with the way now being fully cleared for Ripple to continue its business largely as before, XRP can be expected to rally further in the coming weeks and months.
XRP Price Prediction as $2 Billion Sends XRP Up 6% Overnight – Do Whales Know Something?
XRP's chart is in an excellent position for a news-powered rally, with its indicators remaining largely oversold and ready for a rebound.
For instance, the coin's relative strength index (purple) has risen only to 55 after rallying overnight, implying that there's plenty of room for it to rise further before it becomes overbought.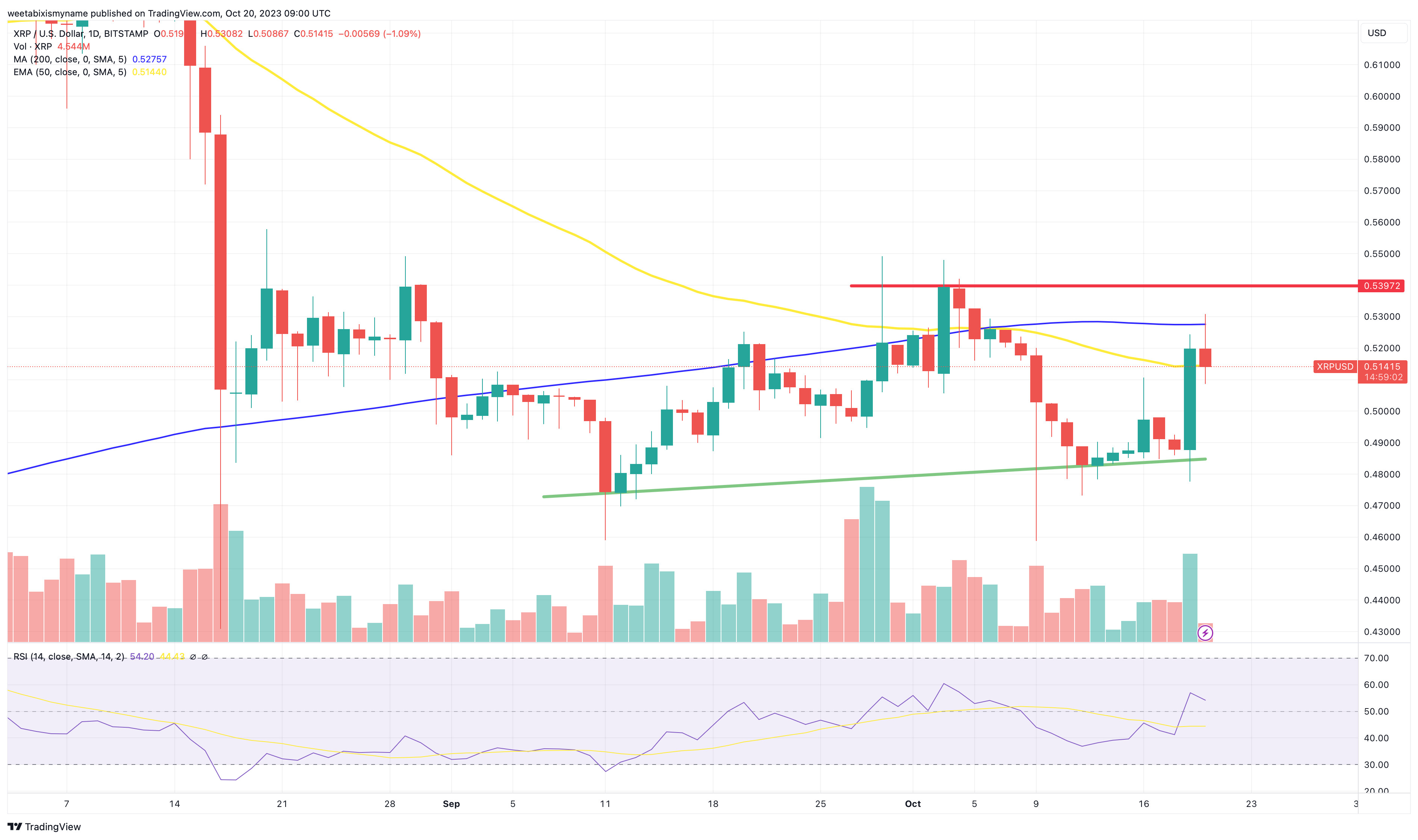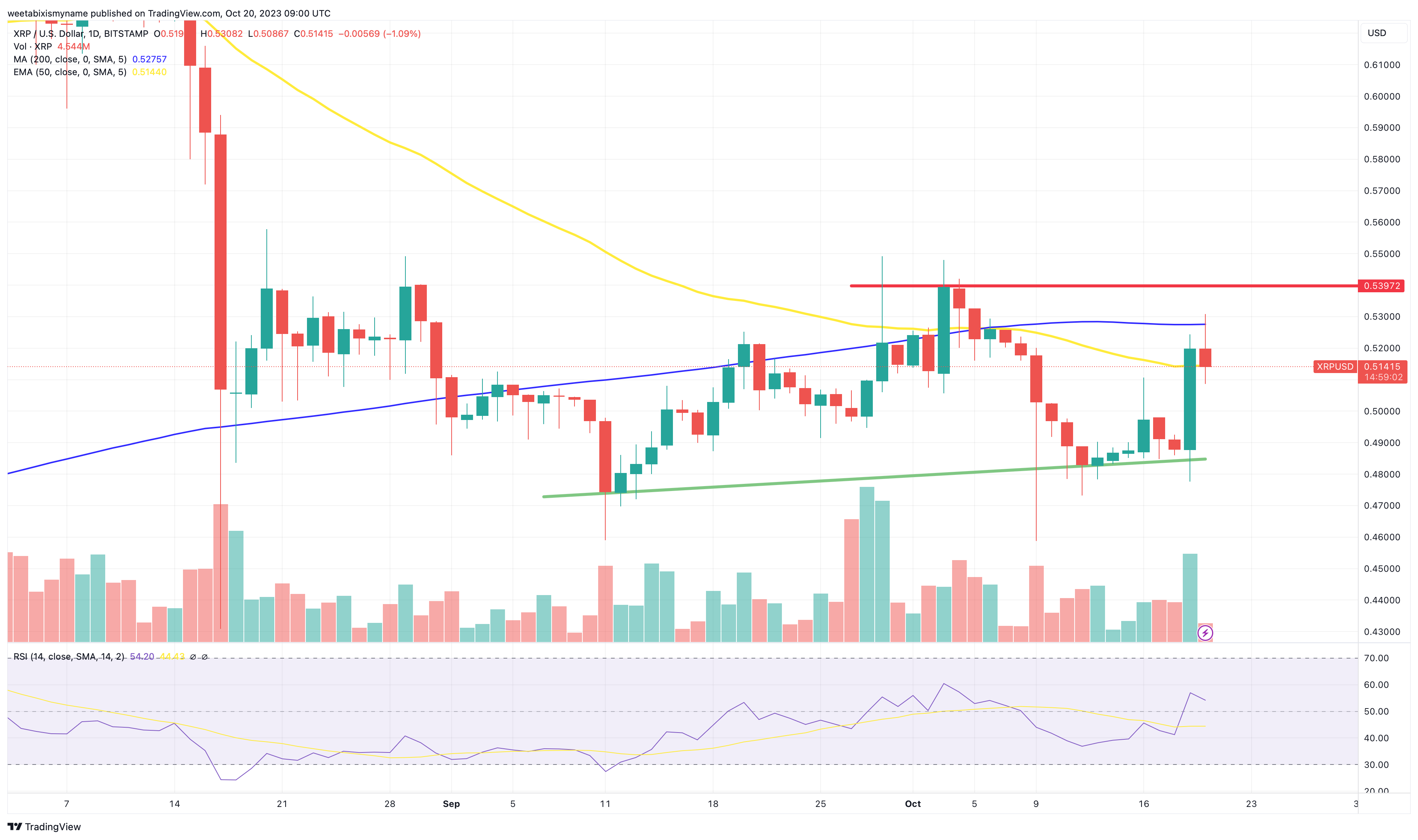 Similarly, XRP's 30-day exponential moving average (yellow) is still significantly below its 200-day average (blue), which again indicates that the coin had been decidedly oversold prior to last night's rally.
Taken together, this can be taken as an indication that XRP's momentum is just starting to rise, and that it still remains heavily discounted relative to its fair price.
Indeed, yesterday's news that the SEC has withdrawn from next year's scheduled trial is incredibly good news for Ripple, with legal experts suggesting that the only thing left to do is to decide on a settlement penalty (for Ripple having broken securities law in selling XRP to institutions).
As noted above, this would leave Ripple in a prime position to resume building its business with a clean slate, with its expansion set to increase demand for XRP, which is used as part of its cross-border transfer product.
In this respect, it's interesting to remember that the past few days saw the emergence of a job posting for a Shareholder Communications Senior Manager, a role which would be responsible for overseeing Ripple's listing on the US stock market.
As such, now is a very exciting time for Ripple and for XRP, with the coin likely to rally big in the next few months.
It could return to $0.60 in the next few days, before reaching $0.80 by December.
Diversification With New High-Potential Altcoins
As strong as XRP is now, it isn't the only altcoin in the market with the potential to witness strong gains in the next few weeks, with a variety of promising new alts currently holding presales that could end with strong exchange listings.
One of these TG.Casino (TGC), a decentralized casino platform that has raised more than $1.3 million since beginning its presale at the start of the month.
This high figure is a testament to TG.Casino's success in convincing investors of its potential, with the online casino – which has already launched – offering a unique mix of classic gambling with social networking.
As its name suggests, it operates on popular social messaging app Telegram, which it's tapping into in order to grow a large and thriving community of users and holders.
Such a use of Telegram is relatively unique within the online casino market, with TG.Casino's social element helping it to maintain an edge over potential rivals.
This partly explains why investors have been so strongly drawn to it, although the tokenomics of its native token, TGC, also help.
TGC will have a hard cap of 100 million, with 40% going to the presale, 20% to staking rewards, and 10% to gaming rewards.
The presence of staking rewards could make the token highly profitable for holders, especially if it experiences high price gains as a result of TG.Casino's organic growth.
Investors can buy some as part of the presale by going the official TG.Casino website, where 1 TGC costs $0.125.
This price is set to rise in just over a day, meaning that traders will have to act quickly if they want to acquire some of this exciting new altcoin at its lowest possible price.
Visit TG.Casino Now
Disclaimer: Crypto is a high-risk asset class. This article is provided for informational purposes and does not constitute investment advice. You could lose all of your capital.

#XRP #Price #Prediction #Billion #Sends #XRP #Overnight #Whales